We present our products during embroidery related events, locally and internationally. At this moment, the only press materials published are available in Polish language. English version will follow soon.

Article, "Maryjna Wspolnota", Poland, page 6, March 24, 2002 - Full article with photo jpg 250 kB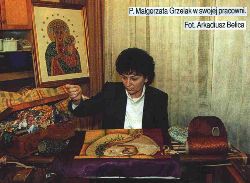 First and last portions of this article:
Publisher - If not everybody know you, they certainly will connect you with one fact: You are the owner of the most beautiful decorated windows - at least these from Kilinski Street - that we could admire during The Corpus Christi Procession.
Malgorzata Grzelak - I am glad you liked my picture. It is important that I dressed my window with self made decoration "na chwale Boza".
Publisher - This is most beautiful in your decoration: Self made picture. Haven't you paint it?
Malgorzata Grzelak - No, no! I create my pictures with a needle and embroidery floss. I am an embroidress. Hand embroidery art is my specialty.
- - - - - - - - - - - - - - - - - - - - - -
Publisher - Renovation of historical objects is unusually expensive. Don't you feel like a business woman, besides your art success?
Malgorzata Grzelak - I never have been a business person. For me, more important then money is a good word from my client, who is happy about my work. Please, here it comes from a letter from parish-priest from Dalewo:
...Chasuble is beautifully renovated. It shines its original beauty and dignity of an old art. Saved from destruction, it will serve us long years Liturgy at church.
Once again thank you for taking our "patient" in such bad condition...
I value such words more than money. Also I am satisfied that I can prove that automation and machines are not non-replaceable. Many people think my art has been created with computer.
Publisher - Yes, how it can be, that one hundred year old chasuble or St. Mary's face look more alive? How do you do it?
Malgorzata Grzelak - I do not know. My hands and eyes "walk" themselves. They feel it.



Peter Sobczak (Piotr Sobczak) published this webpage. Please send comments to Webmaster, writing webpage name and address (Hafciarstwo, http://hafciarstwo.tripod.com). Thank you!